Become a Marmetian
Join Our Squad
Here at Marmeto, we put clients first. Within the past 5 years, we've worked with India's best brands in every domain and have carved an exciting path for our journey around the globe.

We haven't been able to achieve this just because we're a bunch of good looking peeps. No kidding, that we are... It's because we eat, live and breathe ecommerce. Enabling ecommerce is beyond career and passion. It's our reason for being.
VIEW ALL OPENINGS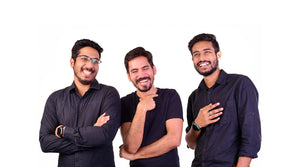 Life at Marmeto
At Marmeto, we work in different squads (AM Squad, Tech Squad and Growth Squad). We're growing fast and we believe in leveling up together, no man left behind! Since we offer end to end Shopify development services, everyday is riddled with exciting challenges and hurdles. Guided by our four core values and the support of our Marmetians, we meet these challenges creatively!
It's our mission to enable tech for every brand and innovate to elevate and accelerate their growth.
If this sounds interesting to you, join our team in helping shape the new era of ecommerce innovation!
Our Core Values
We're dedicated to an extremely rewarding mission of enabling tech for every ecommerce brand.
To help us navigate through and reach our goal, we've summed up our way of work that stems from our strong Indian roots.
Here are our 4 core guiding pillars. Our 4 core values.
Own the Outcomes
We take responsibility for our actions.
Build for Scale
We don't believe in hotfixes and we will do what is right and not just what is required to be done.
Seek & Drive Value
We will seek and drive value to the business and customers in every task that we do.
Open positions in All Departments
| | | |
| --- | --- | --- |
| Node.js Developer | Bengaluru, KA, India | Full Time |
| Project Manager | Bengaluru, KA, India | Full Time |
| Business Analyst | Bengaluru, KA, India | Full Time |
| PHP Developer | Bengaluru, KA, India | Full Time |
| Shopify Developer | Bengaluru, KA, India | Full Time |
| Entrepreneur in Residence | Bengaluru, KA, India | Full Time |
@marmeto_india
Here's a sneak peak into our team marmeto, Get a closer look-